Whether you're trying to put your kitten or puppy on the path to health from an early age or you're looking to ensure your cat or dog enjoys strength and vitality into their old age, we'll be here every step of the way. Your pet's health is our number one priority, so bring in your pet today.
Expert surgery for your pet
Take advantage of our knowledge and expertise by scheduling the surgery your pet needs today. Whether your pet is suffering from a serious injury or other ailment, St. Peters Animal Hospital is here to help.
Complete in-house lab work
Getting the proper care starts with a correct assessment of your pet's current condition. Rely on our advanced technology and years of experience to pinpoint any health issues your pet may have today.
Give your pet the gift of perfect health
St. Peter's Animal Hospital has been serving Saint Peters, MO since 1977. With our dispensary and microchips, we can ensure that you can keep your pet healthy even when the doctor isn't available. Not sure if your can afford it? Ask about our active military, civil service, and educator discounts when you call or visit today.


We're pleased to offer the following services at Saint Peters Animal Hospital: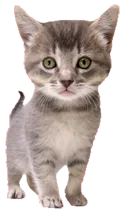 Our appointment book is computerized, which allows us to efficiently make appointments for you and your pet. Our receptionists and team will attempt to accommodate all requests to the best of our ability. Emergencies are accepted anytime our clinic is open. If you feel you have an emergency with your pet, please call us or come in immediately. If possible it is best to call before coming in so that a staff member can advise you on your particular emergency.
We have a veterinarian and personnel on duty six days a week who are trained and equipped to handle any urgent care your pet has. Usually an emergency team consists of at least one veterinarian and several technicians working together to save a pet's life. Emergencies can be things such as accidental ingestion of rat poison, hit by car, and chocolate ingestion. If you ever feel that your pet needs emergency treatment do not hesitate to call or come in immediately.
We are also available for urgent care when the condition is not life-threatening. If you feel your pet needs to be seen before you are able to get an appointment, our veterinarians will work to "squeeze" you in between scheduled appointments. When you arrive, our receptionists will be able to give you an estimate on how long you may have to wait in order to be seen.
Because a large number of veterinarians practice at Saint Peters Animal Hospital, we can care for many types of pets:
Saint Peters Animal Hospital offers discounted services to school teachers, senior citizens, and local area rescue groups. Pre-approval is required to qualify for the rescue group discounts, please call us for more information.
Get your FREE phone consultation today. Call:
Concerned about your pet? Stop in today. Walk-ins welcome.